Following on from our microdermabrasion re-cap earlier this month – the Lanes Health & Beauty are now giving you the full script from the many options available when considering crystal clear facials.

"With an amazing reputation amongst beauty professionals and celebrities, presence in luxury salons worldwide and a founder who's determined to innovate even more pioneering treatments in the world of skincare, there's no doubt that Crystal Clear is a truly innovative global brand."
Crystal Clear Facials – treatment specifics
All Crystal Clear facials utilise innovative crystal technology to gently resurface and exfoliate the skin. This process amazingly transforms dull and dehydrated skin – and reduces the appearance of fine lines, wrinkles and acne scarring.
The exfoliation process encourages new collagen and elastin formation, firming the skin and boosting cellular renewal.
The results from Crystal Clear facials provide visible results after just one session – And any combination of treatments can be prescribed for your specific needs or goals.
Crystal Clear Facials – Treatment Options
Beauty Fix: 'The lunch-hour Special'
No messing microdermabrasion, followed by the application of face and eye cream – perfect for the working girl on the go, or an ad-hoc skin revival!
Beauty Flash:
Microdermabrasion with the enhanced benefit of a collagen mask + pressure point massage to reduce facial tension …
Beauty Flash with Oxygen:
As above but with additional oxygen therapy – this is a sophisticated (and clinically proven) treatment, that delivers pulsed oxygen and skin restructuring actives where skin health, elasticity and firmness begin.
Deluxe Facial:
A micro-dermabrasion treatment followed by application of the famous Lifting Mask, to tighten and lift tired, dull looking skin. This deep cleanse will improve skin hydration by up to 40%.
Oxygen Facial:
Microdermabrasion followed by Oxygen Therapy, breathing new life into tired looking skin. Perfect for plumping and firming lines and wrinkles.
Deluxe with Oxygen:
The 'superstar' of Crystal Clear Facials … a combination of Deluxe and Oxygen into one seamless treatment for ultimate results…
Oxygen Eye Revive:
Just for the eyes and perfect for panda problems / fine lines or puffiness – that will not go away!
Oxygen Inhalation:
Pure oxygen will help eliminate energy dips and assist with rehydration – recommended as a cure for the late night before!
Manual MDA with Oxygen:
Great for sensitive skin taking just 30 or 45 minutes…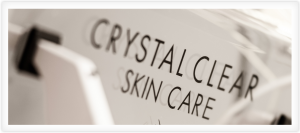 In addition to the above – LHB also provide the revolution in Crystal Clear Facials (COMCIT™) Elite …
Cryo Oxygen Microchannelling Collagen Induction Therapy (COMCIT™) Elite utilises four advanced technologies in one world-first facial, combining freeze therapy and microchannnelling with a skin and oxygen infusion to stimulate new collagen production, significantly reduce lines and wrinkles and rejuvenate skin texture and firmness.
Click here for our dedicated COMCIT treatment page
Whatever your needs and goals for healthier looking (and feeling) skin – contact LHB today and let us help you start the journey towards fresher, younger and brighter looking skin with Crystal Clear Facials.
LHB – 01273 725572