LED Light Therapy
Introducing the shining star in LED Light Therapy, the Neo Elegance Illumination LED Face Mask. The multi award-winning Illumination LED Mask has (quite literally) set the beauty industry alight…
Featured in The Sun, The Only Way is Essex, E4! Body Fixers, OK!, GLAMOUR and Women & Home magazine the NEO Elegance Illumination LED Mask is making headlines all over the world and with good reason.
The mask is comfortable, non-invasive, chemical free and clinically proven for the treatment of anti-ageing, acne, rosacea and eczema.
Treatment Price:
Available from Just £25
(25 to 55 minute treatment options)
Contact us today to discuss your requirements 01273 725572

LED Light Therapy : What are the results?
LED Anti-Ageing Mode will:
Increase collagen synthesis
Help reduce fine lines
Improve blood circulation
Increase hydration naturally
Can improve skin tone & texture heal the skin after invasive treatments like micro needling
Anti­-Breakout Mode will:
Reduce breakouts and problem skin prevent future breakouts calm redness regulate sebum production improves pigmentation after spots
Total Skin Rejuvenation Mode will:
Target multiple skin conditions
---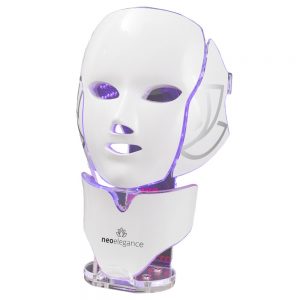 ---
LHB : LED Light Treatment Specifics:
LED Express with MDA (Microdermabrasion) : 25 minutes
Skin is cleansed followed by Crystal Clear Microdermabrasion then LED Light Therapy customised for your skin type / concerns and goals. £45
LED Express w/ Galvanic : 25 minutes
Galvanic therapy is applied followed by skin being cleansed. LED Light Therapy customised for your skin type / concerns / goals is then performed, to give your skin an ultimate treatment in express time. (Great for reducing pimples, redness, breakouts and heals). £45
LED Combo : 45 minutes
Skin is cleansed followed by Crystal Clear Microdermabrasion and then Galvanic therapy and LED Light Therapy is customised between red and blue for individual skin concerns / goals. Eye cream and moisturiser applied to finish. £60
LED Combo w/ Oxygen Therapy : 45 minutes
Skin is cleansed followed by red and blue combination light therapy for skin concerns / goals. Oxygen therapy is then applied to the face and neck using Crystal Clear oxygen serum. Eye cream and moisturiser is applied to finish. £70
LED Ultra : 55 minutes
Skin is cleansed followed by Crystal Clear Microdermabrasion and then Galvanic and LED Light Therapy is customised for individual concerns/goals. Oxygen Therapy is then carried out on the face and neck. Eye cream and moisturiser is applied to finish. £85
LED Light Therapy @ LHB