Defined eyebrows transform your look, enhancing facial features and making you look years younger. Add our professional lash & brow treatments to make eyes pop!
Our Prices
Lash Enhancements (party lashes) £25
Brow Shape £15
Brow Tint £15
Lash & Brow Tint £28
Semi-Permanent Lash Extensions
Full Set –
£70
Half Set – £45

Infills
Last up to 3 weeks –
£30
Removal – £10
Please note: all tinting HD and LVL treatments require patch testing 48 hours in advance.  Payment for all lash and brow treatments are also required 48 hours in advance. Thank you.
Before & After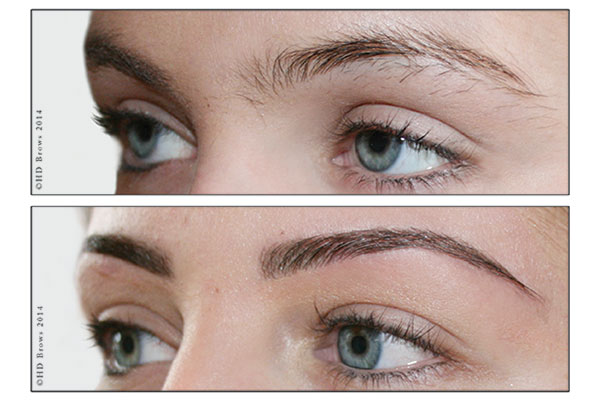 HD Brows
Using a unique seven step brow shaping technique to achieve the perfect, well groomed, High Definition Brow that many celebrities are adopting.
£30 (Tint test required 24hrs prior to appointment)

Lanes Health and Beauty are now offering the latest beauty treatment that counts a huge list of celebrities throughout the UK plus Hollywood A-listers among its fans.
This new 7 step brow-shaping treatment achieves the well groomed, high definition eyebrow's that is the latest catwalk trend. HD brows sculpt your brows into the perfect shape to instantly frame your face, allowing your features to stand out. Did you know that 70% of our facial expressions depend on our eye brows? With the right brow shape and colour, you will instantly look younger.
The treatment includes a combination of techniques including tinting, waxing and threading, using specialist HD products. Once you have this treatment, you will be hooked! Brow shapes are tailored just for you, so don't be worried that the brows may not suit you – we will advise and liaise with you to achieve your perfect style. Your HD brows can be dark or light, thick or thin, sharp or soft. The treatment transforms even the unruly, sparse or over plucked brows into HD Brows.
The HD Brow treatment has seven steps which include tinting, waxing, trimming and threading. Jo Wood is our in salon HD Brows specialist, with a huge clientele she will shape your brows to match your face and contouring before creating a bespoke brow, tailored exclusively for you. We recommend that you leave your brows for at least 2 weeks prior to your treatment, so Jo can see where your hair does and doesn't grow. You will need to have the treatment every 4 – 6 weeks and we require all clients to have a tint test prior to treatment.