'Happy Easter' – and welcome to the biggest blog yet from team LHB. The New Year brings a new hope and this year, LHB bring you a brand new treatment – a true innovation in beauty and a revolution for beautiful skin, we proudly present the NEO Elegance Illumination LED Face Mask.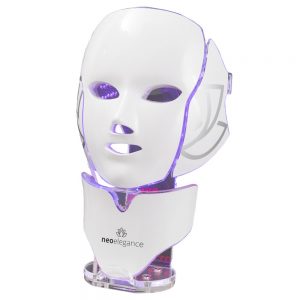 NEO Elegance LED Face Mask : What is it ?
100% drug free, chemical free and non-invasive, The LED face mask uses light therapy for skin rejuvenation – the led mask utilises 3 different wavelengths to target the different levels of your skin as follows:
RED LIGHT : Anti Ageing
BLUE LIGHT : Anti Acne
INFA RED : Deep Wound Healing

---
"Our therapists will consult with you and then select the correct and appropriate settings for your skin goals and concerns …"
What are the results of LED therapy ?
"Results are instant – and you will notice enhancements to your skin immediately after treatment…"
Who's using LED Face Mask therapy?
Jessica Alba, Kourtney Kardashian, Kate Hudson, Vikky Pattison, Stacey Solomon and Danielle Armstrong are all fans of this tech treatment and with results being both natural and instant – there's little to argue about.  This powerful yet delicate dream for skin is at the cutting edge of treatments and allows you to achieve the skin you deserve without needing the spending power of those in the limelight.
How does LED treatment work ?
LED Express with MDA (Microdermabrasion)

:

25 minutes
Skin is cleansed followed by Crystal Clear microdermabrasion then LED light therapy customised or your skin type and concerns.  £45
LED Express w/ Galvanic

:

25 minutes
Skin is cleansed followed by LED light therapy customised or your skin type and concerns. Galvanic therapy is then used to give your skin an ultimate treatment in express time. (Great for reducing pimples, redness, breakouts and heals).  £45
LED Combo

:

45 minutes
Skin is cleansed followed by Crystal Clear microdermabrasion and then Galvanic therapy and LED light therapy customised between red and blue for individual skin concerns. Eye cream and moisturiser is applied to finish.  £60
LED Combination w/ oxygen therapy

:

45 minutes
Skin is cleansed followed by red and blue combination light therapy for skin concerns. Oxygen therapy will then be applied to the face and neck using Crystal Clear oxygen serum. Eye cream and moisturiser is applied to finish.  £70
LED Ultra

:

55 minutes
We start by cleansing the skin and carry out a full Crystal Clear microdermabrasion and oxygen therapy to the face and neck. LED light therapy is then used to address skin concerns. Eye cream and moisturiser is applied to finish.  £80
---
Stay tuned for further LED face mask insight from LHB, and check out our new tingle Tuesday 2018 spring promo … 7 very special offers that give you more for less …
LHB – 01273 725572