Last year we announced the launch of the Tibby Olivier professional range at LHB and since then, neither us nor our clients have looked backed … ! There are many 'miracle' cures for weight and inch loss – however, the Shrinking Violet speaks for itself, as the results are measured before and after, so there is no wiggle room for any competition, Tibby Olivier Pro tummy wraps are the 'go to' for treatment, experience and RESULTS!

Don't just take our word for it – check out what the press say…
LOOK MAGAZINE:  "When measured again, I'd lost 7.5 inch, including one off my waist and 3/4 inch off each thigh."
OK MAGAZINE:  "When we were unwrapped after a very relaxing hour of cooking – which even saw us slip off to sleep! – we were re-measured, and in the matter of an hour we'd dropped a wonderful 14cm across our body and, most impressively, a staggering 4cm from our hips."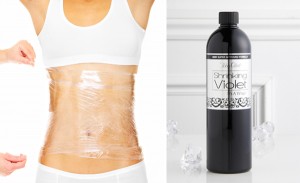 Shrinking Violet tummy wraps are no miracle cure – they are years of research and scientific evaluation that uses a solution containing active ingredients that penetrates the skin. This solution is applied followed by the 'wrapture' (not cling film!) which induces heat. The heat ensures the active solution ingredients change the state of your fat cells, which causes them to release intra-cellular fat which in turn reduces the size of the fat cells.
So, now you know … want to know a little bit more? Read on for the LHB tummy wraps Q&A …
Q:  How long does the treatment take?
A:  1.5 hours
Q:  How much does the treatment cost?
A:  Just £60
Q:  When do I see the results?
A:  Immediately – these results will continue to improve / enhance for the next 72 hours!
Q:  Will the inches loss stay off?
A:  Yes! However, try to avoid fatty food and drinks, alcohol, coffee and keep active!
Q:  What does it feel like?
A:  Warm and cosy with a pleasant aroma…
Q:  Is it just for tummy?
A:  Nope – Tibby Olivier Pro body wrap takes care of the whole body including arms, so provides all over inch loss for tum, bum, thighs and arms!
Get in touch today for availability or book online here… LHB are here to help you into summer and beyond!
LHB – 01273 725572